What People (& Squirrels) Are Saying
About Our Website!
As I get feedback from readers like you, I will be putting selected quotes here. So please share with me what you like about the website! Thanks! - Bill "Contact Me"
(I launched the website on December 7, 2014)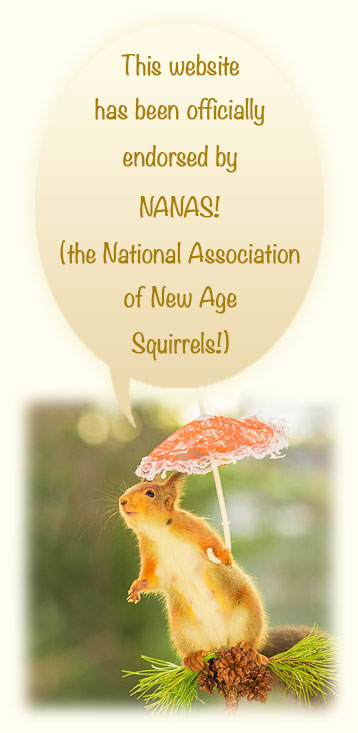 ________________
"I love your website and I love the Stories of Kindness. - Blessings with infinite love and gratitude!"
- Dr. Shanhong Lu, MD, PhD, Mount Shasta Integrative Medicine
________________
Thank you for such a superb site. I discovered it tonight during a web search, so far everything your site has presented is "bang on" with what I really was seeking to understand. The explanations here really expand on the comparative reading I have done so far and what I have been trying to fill in the blanks about – even the Spiritual To-Do List reflected exactly what thoughts may come to mind. It gives the reader the confidence to know and believe that there is absolutely nothing wrong with setting Ascension at the end of this lifetime as a goal. And finally, the whole website – the images, the word bubbles, the softness of the colours – they all incorporate a lovely storybook feel which enhances the simplicity of the explanations. It entices a typical reader to settle down every night and read as if one has a good storybook in hand. I thank you so much for bringing it all together here. I never ever thought I would find a site like this which combines everything so beautifully together.
– Al, a 40 year old woman from the Caribbean
________________
Hi Bill! I'm a woman from California and I'm 43. I was just Googling "Thought Forms" to learn more about them and how to protect myself from them when I came across your site. I just wanted to say thank you for sharing all this really great info. Your articles are well written and your website looks great. Thank you for putting all this energy into educating people! Have a lovely day! PS: Happy to report I surrounded myself with my White Tube of Light this morning and I feel great!
- Kim, California
________________
I couldn't resist taking this moment to send you love and blessings and appreciation for all you've brought to our lives and spiritual awareness. Namaste!
– Karen & Barry, Macdoel, CA, USA
________________
"Hello, Bill, thank YOU so very much for the present of your website so generously offered free to all of humanity! I have browsed the site a few times since I first accessed it and have felt spiritually refreshed from each visit! A big thank you also to Jack Hawley for offering his workbook for self-refinement (Roadmaps to Self- Realization) similarly free of charge on  your fabulous site!  Please keep it going--I will keep recommending this website to my friends!"
– With best wishes, RL, (A retired physician from Vancouver, BC, Canada)
________________
"Thank you for sharing this divinely inspired work . . . there's divine finger prints all over the website!"
- Sanjai, New Jersey, USA
________________
I just read the whole Light Meditation section and found it extremely inspiring and uplifting. I will try to practice these exercises every day. Thank you! This entire website is so beautiful. It is truly a labor of love and light.
– Sundari, CA, USA
________________
"WOW!!!! What a great site for spiritual seekers!!"
- SS, West Virginia, USA
________________
"I find your website to be a delightful oasis - a soothing place to take a mini-vacation and remind myself of what is really going on around me. And I'm especially grateful for the animal page. Too many people don't understand what the four-legged souls are doing for us. Thank you again for this kind, gentle, spiritually uplifting website."
- Karen K, Maryland, USA
________________
"I really love this website. It's the most beautiful and inspiring thing I've ever seen on the internet."
- RM, California, USA
________________
Hi Bill, Thank you for your "labor of love" – one can feel the love pouring through your labor! I am a grandmother from New England, have practiced Tibetan Buddhist meditations since the mid 90's, Tai Chi, then yoga for 4+decades. In an attempt to clarify some new thoughts I found your site when I was researching differences and similarities between Buddhist and Christian thought. About a year ago I began meditating at Ananda Church and this year I was called to work with "The Course in Miracles." Today I am working with the lesson: Above all else I want to see." Your website has done just that. I have read Dangers on the Path and "Meditation on Violet Flame" – both gave me great clarity in experiences I have had in meditation. I believe that this website and your future book are the beautiful legacy of the gift of Pearl's love.
– In deep gratitude, Ruth
________________
"This is a site of pure love and light."
- Barbara, San Diego, CA, USA
________________
I'm only part way through the website, but everything I've read so far is perfect! I am a 30 year old mother of two near Glastonbury in the UK, trying to piece together motherhood and family life with my own spiritual journey. Thank you!
– D.R., Glastonbury, UK
________________
"I love it!"
- DG, Gaithersburg, MD, USA
________________
"This is such a wonderful, beautiful and inspiring website. What a labor of love!! It has so much information and inspiration. And the pictures are just gorgeous! Thank you! I will be enjoying this site for a long, long, long time and recommending it to all my friends."
- LM, San Francisco, CA, USA
________________