Books for Nurturing
Family Fun & Affection
* * *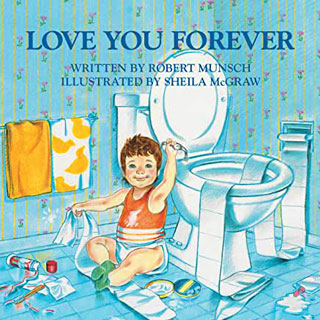 Love You Forever
by Robert Munsch (Author) &
Sheila McGraw (Illustrator)
Age Range: 4 and up
Lexile Measure: AD780L
ISBN-10: 9780920668375
ISBN-13: 978-0920668375
ASIN: 0920668372
A young woman holds her newborn son and looks at him lovingly. Softly she sings to him:
"I'll love you forever
I'll like you for always
As long as I'm living
My baby you'll be."
So begins the story that has touched the hearts of millions worldwide. Since publication in l986, Love You Forever has sold more than 15 million copies in paperback and the regular hardcover edition (as well as hundreds of thousands of copies in Spanish and French).
Reviews:
An extraordinarily different story by Robert Munsch is a gentle affirmation of the love a parent feels for their child--forever. Sheila McGraw's soft and colorful pastels perfectly complement the sentiment of the book--one that will be read repeatedly for years. (Book Fairies Vancouver 2019-04-08)
Our No. 1 Favorite, 50 Great Children's Books (Susan Belkapp, Maggie Beidelman and Craig Reem OC Family)
There's a reason why Love You Forever is still on the bestseller list 24 years after its release. (Darcy Matheson Daily Hive 2019-04-26)
No one can read this without the tears falling. (Sharon Owen Madera Tribune 2003-05-08)
* * *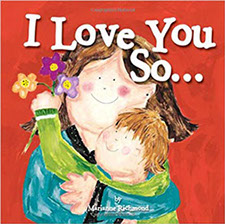 I Love You So...
by Marianne Richmond (Author)
Age Range: 1 - 5 years
ISBN-10: 9781402279539
ISBN-13: 978-1402279539
ASIN: 1402279531
Lexile Measure: AD530L
Series: Marianne Richmond
Board book: 24 pages
"I love you."
"How much?"
"SO much."
"How much is SO?"
"Way, WAY more than you know."
I Love You So... puts into words the often indescribable quality of boundless, steady, and unconditional love. This comforting story embraces the reader like a warm hug and gently reassures a child that love is for always – despite the grouchy moods or physical separation. I Love You So... is the perfect pause in a hectic day offering the gift of love to a treasured child.
* * *
* * *
Please check our other Children's Books categories by clicking on the menu items at the upper left of this page or by clicking on the link below: