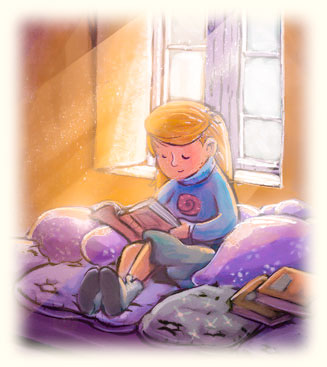 Books that
Encourage Kindness
* * *
Have You Filled a Bucket Today?: A Guide to Daily Happiness for Kids
by Carol McCloud &
David Messing
Age Range: 4 - 9 years
Grade Level: Preschool - 4
ISBN-10: 099609993X
ISBN-13: 978-0996099936
Winner of 24 awards & part of the Bestselling: Bucketfilling Books Series
While using a simple metaphor of a bucket and a dipper, author Carol McCloud illustrates that when we choose to be kind, we not only fill the buckets of those around us, but also fill our OWN bucket! Conversely, when we choose to say or do mean things, we are dipping into buckets. All day long, we are either filling up or dipping into each other's buckets by what we say and what we do. When you're a bucket filler, you make the world a better place to be! This 32-page picture book is perfect for children, parents, grandparents, teachers and people that want to teach empathy, nurture kindness and create a positive environment in their home, classroom, workplace and community.
In early 2006, there was not one children's book on the subject of 'bucket filling.' Teachers were looking for tools to address the problem of bullying and bucket filling proved to be a positive, proactive, and effective solution that quickly spread from one 'bucketfilling school' to another.
Fast forward ten years and an entire publishing house, Bucket Fillers with its imprint, Bucket Fillosophy, is dedicated to teaching this concept with books, products and presentations. Today, more than a dozen bucketfilling books for all ages have been published in multiple languages with more than two million copies sold. Thousands of schools around the world use bucket filling as a main component of their character development program.
Publications by Bucket Fillers:
Have You Filled a Bucket Today?
Fill a Bucket
Growing Up with a Bucket Full of Happiness
My Bucketfilling Journal
Will You Fill My Bucket?
Bucket Filling from A to Z
Bucket Filling from A to Z Poster Set
My Very Own Bucket Filling from A to Z Coloring Book
BABY'S BUCKET Book
Halle and Tiger with their Bucketfilling Family
Buckets, Dippers, and Lids
For more information on bucket filling or free downloadables and resources, please visit bucketfillers101.com.
* * *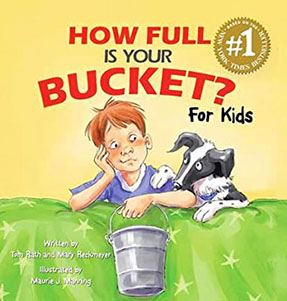 How Full Is Your Bucket?
by Tom Raths (Author),
Mary Reckmeyer (Author) &
Maurie J. Manning (Illustrator)
Age Range: 3 - 8 years
Grade Level: Preschool - 4
Lexile Measure: AD560L
ISBN-10: 1595620273
ISBN-13: 978-1595620279
An illustrated adaptation of the long-running bestseller How Full Is Your Bucket? (more than 400,000 copies sold) for kids — told through the story of a boy who learns a valuable "bucket filling" metaphor and watches it come to life as the day unfolds.
Every moment matters.
Each of us has an invisible bucket. When our bucket is full, we feel great. When it's empty, we feel awful. Yet most children (and many adults) don't realize the importance of having a full bucket throughout the day.
In How Full Is Your Bucket? For Kids, Felix begins to see how every interaction in a day either fills or empties his bucket. Felix then realizes that everything he says or does to other people fills or empties their buckets as well.
Follow along with Felix as he learns how easy it can be to fill the buckets of his classmates, teachers and family members. Before the day is over, you'll see how Felix learns to be a great bucket filler, and in the process, discovers that filling someone else's bucket also fills his own.
* * *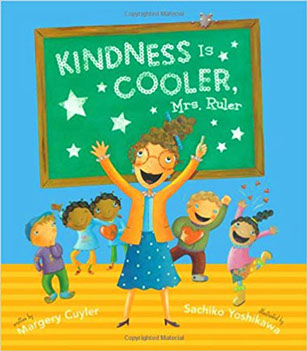 Kindness Is Cooler, Mrs. Ruler
by Margery Cuyler (Author)
Sachiko Yoshikawa  (Illustrator)
Age Range: 5 - 10 years
Grade Level: Kindergarten - 5th Grade
ISBN-10: 0689873441
ISBN-13: 978-0689873447
Mrs. Ruler comes up with an innovative way to teach her class the joy and self-confidence that comes with spreading acts of kindness. Little by little her students start sharing during "Show and Tell" about their acts of kindness at home. Mrs. Ruler creates paper hearts labeled with each act of kindness and puts them on the wall. Soon the whole class is excitedly sharing their various acts of kindness as they seek to live the new motto: "Kindness is Cool."
* * *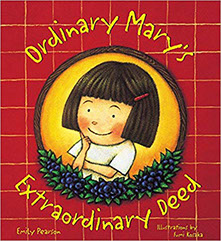 Ordinary Mary's Extraordinary Deed
by Emily Pearson  (Author)
Fumi Kosaka (Illustrator)
Age Range: 4 - 7 years.
Grade Level: 2nd - 6th Grade.
ISBN-10: 1423648870, ISBN-13: 978-1423648871.
A sweet inspiring story that shows how when we do something kind for someone that that's not the end, but rather the beginning of an almost endless chain of positive events and future good deeds. It inspires children with the confidence that they too can make a difference in the world - even though they're just a kid. From the back cover:
Can one child's good deed change the world? It can when she's Ordinary Mary―an ordinary girl from an ordinary school, on her way to her ordinary house―who stumbles upon ordinary blueberries. When she decides to pick them for her neighbor, Mrs. Bishop, she starts a chain reaction that multiplies around the world.
It's a feel-good story that inspires and celebrates a world full of ordinary deeds!
* * *

* * *
Please check our other Children's Books categories by clicking on the menu items at the upper left of this page or by clicking on the link below: