How To Find Meaning and Purpose
in Our Lives
By Cheryl
It is important that each of us create our own unique meaning and purpose in life. When we accomplish something in our lives which is special to us, then our life has purpose and becomes meaningful.  Here are some tips on how to do that.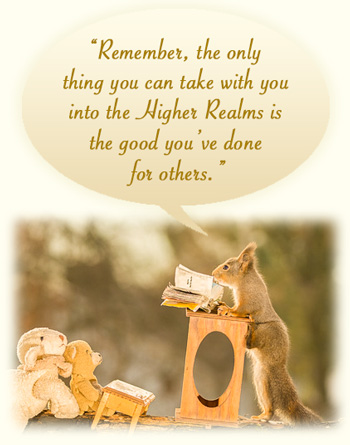 Giving Back:

  By "giving back" or volunteering (even in small ways) to our own community or to the larger world, we will not only help those in need, but we will also find more meaning and purpose in our lives. We simply feel good about ourselves.  In short, we feel loved and needed when we're helping others and it gives us a real sense of purpose and satisfaction.
Balancing Work and Play:

  Remember it is your life, so focus in on those things in your home life and career that make you happy. Do what you love to do or at least find a compromise that is acceptable. Find a job that will bring you a decent income and that is worthy of your time, or change it to something you can do that is rewarding. Then make sure your home life and recreational time gives you the enjoyment and happiness that you deserve.
* * *

* * *
Please click here for more insights on understanding life's
purpose from a universal perspective: "What is the Purpose of Life?"
* * *
More of Our Articles On Positive Living
Please Click Here to Return to Our Intro to:
The Art Of Positive Living Articles
* * *
Have Fun, Be Kind, Be Happy!
Copyright 2017 Bill Gaum. All Rights Reserved