My Flight on a Pegasus!
By Cheryl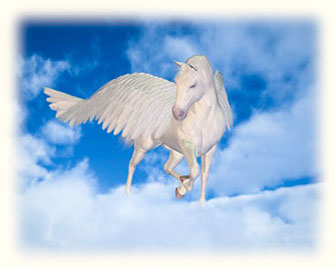 Spring and Fall are my favorite times of the year. Spring with the new growth and colors after winter is so wonderful. And the Fall season with all the vibrant autumn colors and all the beautiful fruits and vegetables that are harvested this time of year which are so bountiful and delightful to eat. We are so blessed!
On this particular fall day the Faeries, Elven, Wee Folk and so on were going to have a harvest dance celebration. Preparations were made and everyone was getting ready for the festivities. To my surprise and delight we were joined in by a beautiful Pegasus! As, you may know a Pegasus looks like a white horse with wings. Most people think of them as folklore, mythological creatures that don't exist, but to a few fortunate humans we do have the honor of seeing them for real.
As the music and dancing began, everyone and all the woodland creatures joined in, including the Pegasus. Now some of the young'uns of course can't resist flying around the dance circle along with the birds and butterflies etc., – darting in and out amongst the dancers on the ground. They do a beautiful acrobatic dance performance which is breath taking to be sure. Then the Pegasus decided to join them. The Pegasus was so graceful on the ground, prancing around in the dance circle, but now flying above my head, he was so beautiful – soaring around with the young'uns and all. I stood for a brief moment in awe. What a fabulous sight, so spectacular. Then, to my delight the Pegasus suddenly dropped from the air and came to my side. He telepathically asked me to hop onto his back to take me for a ride. Wow! What a privilege and a thrill! I was no longer in my physical body, but was now in my Etheric Body and mounted onto his back and hung on. Off we went! Way up into the sky soaring higher, and higher. It was so magnificent. What a gorgeous view! We flew over the mountain tops. I could see all the glaciers, crevasses, lakes and streams around the lake we were camping on. They all looked so magnificent! Now, circling around, we then headed back to the dance group. As we approached, some of the young'uns flew up to meet us. Together we made a formation to put on an acrobatic flight performance circling around the dance group who were below us. The dancers clapped, and yelled in delight as we circled around their heads, then we gently flew back down to the ground, and joined in the circle. What a fantastic flight it was! Truly amazing! I stayed on the Pegasus for a few dances before gently sliding off his back. I thanked him for allowing me to go flying with him and for the lovely dances. Everyone, and all the creatures continued dancing and singing well into the night. The fire flies had now joined in, twinkling with glee and casting fae-like light shadows across the dance circle, putting on a light display with such beautiful colors. It looked like the colorful Northern Lights, the Aurora Borealis. You can't beat this, a mystical event so spectacular! I didn't want it ever to end!
* * *
For More of Cheryl's Fascinating & Delightful True Experiences with Nature Spirits & Angels,
Please Click Below:
More of Cheryl's Nature Spirits & Angel Experiences, Please!
(Or use the side menu on the upper left.)
* * *
After reading the above stories, you might want to also check out the various books on Angels, Devas and Nature Spirits that are in our Recommended Reading List.
Back to Main Menu
To return to the main menu of "Inspiring True Stories" click here, and then look at the various "True Story" categories on the side menu on the left side of the page. There's lots more true stories to read: inspiring stories of People's Experiences with Angels, sweet Loving Kindness stories, heart melting true Near Death Experiences, uplifting Miracle Stories, fascinating,reassuring Prayers Answered Stories, heart touching Animal Stories, insightful Poems & Quotes, and the inspirational Heroes of Integrity!
Copyright 2016 Bill Gaum. All Rights Reserved