A Day in the Life of the Fae
By Cheryl
Fae and Wee Folk are Etheric Beings with spiritual powers. They can transform into almost anything that they want too. All that they have to do is picture what it is they want and instantly they turn into that being or creature, and so on. And not only do they have the abilities to do this, but they also can teleport themselves and others anywhere they choose to go. Now, I would sure like to harness that power. No more traffic jams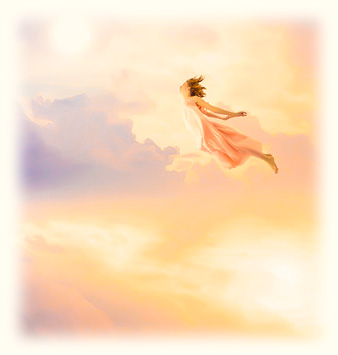 or long line-ups and no more long commutes. What a relief that would be. I could go anywhere in this world in a blink of an eye! How awesome.
Sometimes though, the Fae prefer to fly. They enjoy the pleasures of the breeze passing through their whole being, or tickling their wings as they soar high above the mountain tops or enjoy skimming across the water of a nearby lake or stream. It is always such a delight flying with them. They always have so much fun. They make everything seem so simple. You just do it, enjoying every second and every moment with every fiber of your whole being. What a thrill!
The Fae and Wee Folk have taught me many wonderful things. One of the most important is to always share love from your heart to the whole world – spreading joy, kindness, empathy, compassion, happiness and all things positive and good. Showing people that love, peace and living in harmony together with an open heart, mind, body, and spirit full of hope, faith, acceptance, and forgiveness is how we all can bring this world and our own lives back into balance – the way it is supposed to be.
This is how the Fae and Wee Folk live their lives each and every day. They know the true meaning of loving kindness. Such gentle souls. Also, they go about their daily tasks of tending to nature's needs, fixing what they can. They too, have limitations. Also, humans tend to be continually destroying so much of nature that the Fae have a hard time trying to keep up. It's important to realize that the Fae and Wee Folk's spiritual powers cannot fix everything. The earth has its own natural rhythm and cycles including destructive storms, earthquakes, forest fires, floods, volcanic eruptions, etc, which they cannot interfere with. But, at least we humans can try to stop polluting and destroying so many of the natural wonders of this world. And as humans we help out by solving and fixing our own problems and issues. The Fae can help guide us and assist us in finding the right paths to follow, but there are certain life's lessons, and experiences that we each have to go through and learn in our own way as part of our life long journeys.
So it's helpful for us to keep love in our hearts and open our minds to let the Lightful Energies in and see what a truly amazing world we live in. There are such wonderful beings and beautiful creatures of all kinds that live here in our own backyards, in our parks and in our forests. They are everywhere all around us helping to replenish and refurbish our earth.
So, it is up to all of us to follow their lead and take responsibility for cleaning-up our messes, purifying the air we breathe, the water we drink, and the land we walk on. It is our duty if we want to continue to live and thrive in this world. And this can best be done by living with love in our hearts, being the best we can be, helping others and tending to the needs of the world. It also helps to be grateful for all that we have while knowing that we are all one, united as a whole.
* * *
For More of Cheryl's Fascinating & Delightful True Experiences with Nature Spirits & Angels,
Please Click Below:
More of Cheryl's Nature Spirits & Angel Experiences, Please!
(Or use the side menu on the upper left.)
* * *
After reading the above stories, you might want to also check out the various books on Angels, Devas and Nature Spirits that are in our Recommended Reading List.
Back to Main True Stories Menu
To return to the main menu of "Inspiring True Stories" click here, and then look at the various "True Story" categories on the side menu on the left side of the page. There's lots more true stories to read: inspiring stories of People's Experiences with Angels, sweet Loving Kindness stories, heart melting true Near Death Experiences, uplifting Miracle Stories, fascinating,reassuring Prayers Answered Stories, heart touching Animal Stories, insightful Poems & Quotes, and the inspirational Heroes of Integrity!
Copyright 2017 Bill Gaum. All Rights Reserved