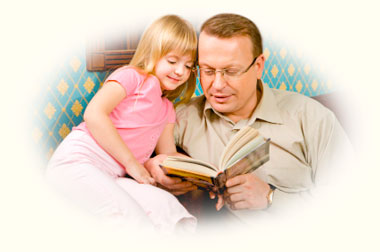 Books that Help
Children &
Parents
To Deal with
Bullying
* * *
Anti-Bullying Books for Children
(For Anti-Bullying Books for Parents & Teachers please see below.)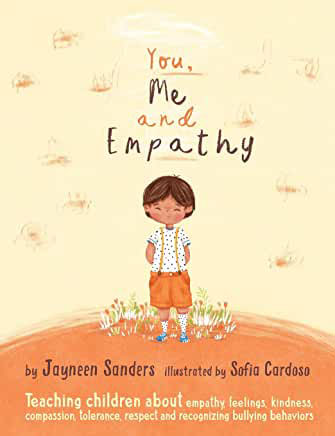 You, Me and Empathy: Teaching Children about Empathy, Feelings, Kindness, Compassion, Tolerance and Recognizing Bullying Behaviors.
by Jayneen Sanders (Author) &
Sofia Cardoso (Illustrator)
Age Range: 3 - 9 years
Grade Level: Kindergarten - 3 ISBN-10: 1925089088 ISBN-13: 978-1925089080
One of the most important social skills a child can learn is empathy. Being able to understand how another person is feeling and recognizing their needs helps people to connect to one another across race, culture and the diversity that is ever-present and so important to our world. This charming story uses verse, beautiful illustrations and a little person called Quinn to model the meaning of empathy. Throughout the story, Quinn shows an abundance of understanding, compassion and kindness towards others. Showing empathy towards others is a learned trait, and one to nurture and cherish with the children in our care. Also included are Discussion Questions for parents, caregivers and educators, and suggested activities to promote empathy and kindness.
* * *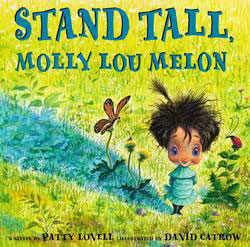 Stand Tall, Molly Lou Melon
by Patty Lovell (Author) &
David Catrow (Illustrator)
Reading Level: Ages 5-8
ISBN-13: 9780399234163
ISBN-10: 0399234160
Leave it to Molly to transform all her 'faults' into marvelous talents so that even when the class bully at her new school makes fun of her, Molly remembers what her grandmother told her and feels good about herself. Catrow's pictures fill the pages with wild perspectives, goofy-looking kids, and hilarious details. It leaves readers with the feeling that anything can be accomplished if you are the best person you can be and make the most of your gifts.
The anti-bullying strategy illustrated in this book probably works best for children who are already fairly confident and outgoing, but who feel they have some physical flaw or disability that other kids might make fun of. It might not be a good match for kids who are shy, quiet, withdrawn or introverted.
* * *
Anti-Bullying Books for Parents
& Teachers
Normally, I read every book cover to cover before placing it into one of our Recommended Reading Lists. But I'm going to make an exception with some of the following books in the sections on Developing Self-Confidence and Anti-Bullying. These books are quite long and I don't have time at this moment to read them all the way through. But they have been recommended by experts on bullying and childhood self-confidence and might be of real help, so you might want to check them out online and see what you think.
– Bill Gaum, Editor in chief, ManyPathsLeadToGOD.com
* * *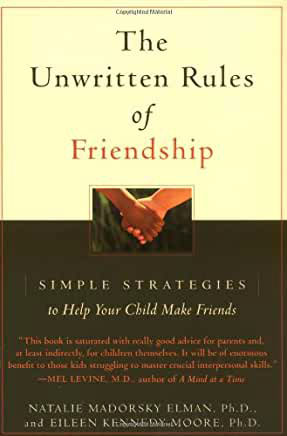 The Unwritten Rules of Friendship: Simple Strategies to Help Your Child Make Friends
by Natalie Madorsky Elman, PhD (Author) &
Eileen Kennedy-Moore, PhD (Author)
For Parents and Teachers
ISBN-10: 0316917303
ISBN-13: 978-0316917308
"Nobody likes me," is a complaint that parents hear all too often and few utterances make them feel more helpless. What can a parent do for a child who feels isolated, rejected, or out of sync with his or her peers?
This practical and compassionate handbook draws on the authors' experience working with thousands of children to offer you as a parent (or teacher or caregiver) tools you can use – including practical activities, games, and exercises – to identify a child's social strengths and difficulties and to sharpen any child's social skills
* * *
Best Friends, Worst Enemies: Understanding the Social Lives of Children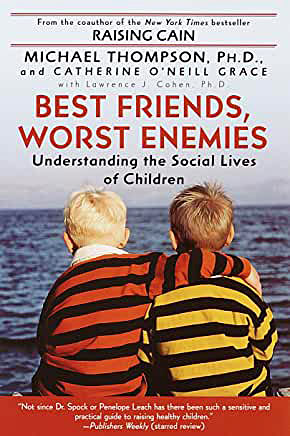 by Michael Thompson, PhD
Cathe O'Neill-Grace, et al.
For Parents and Teachers
ISBN-10: 034544289X
ISBN-13: 978-0345442895
From the Inside Flap: Friends broaden our children's horizons, share their joys and secrets, and accompany them on their journeys into ever wider worlds. But friends can also gossip and betray, tease and exclude. Children can cause untold suffering, not only for their peers but for parents as well. In this wise and insightful book, psychologist Michael Thompson, Ph.D., and childrens' book author Catherine O'Neill Grace, illuminate the crucial and often hidden role that friendship plays in the lives of children from birth through adolescence.
Drawing on fascinating new research as well as their own extensive experience in schools, Thompson and Grace demonstrate that children's friendships begin early in infancy and run exceptionally deep in intensity and loyalty. As children grow, their friendships become more complex and layered but also more emotionally fraught, marked by both extraordinary intimacy and bewildering cruelty. As parents, we watch, and often live through vicariously, the tumult that our children experience as they encounter the cool crowd, shifting alliances, bullies, and disloyal best friends.
Best Friends, Worst Enemies brings to life the drama of childhood relationships, guiding parents to a deeper understanding of the motives and meanings of social behavior. Here you will find penetrating discussions of the difference between friendship and popularity, how boys and girls deal in unique ways with intimacy and commitment, whether all kids need a best friend, why cliques form and what you can do about them.
Filled with anecdotes that ring amazingly true to life, Best Friends, Worst Enemies probes the magic and the heartbreak that all children experience with their friends. Parents, teachers, counselors – indeed anyone who cares about children – will find this an eye-opening and wonderfully affirming book.
* * *
* * *
Parents might find some additional helpful books in our related Children's Books section on Building Children's Self-Confidence.
Please check our other Children's Books categories by clicking on the menu items at the upper left of this page or by clicking on the link below: